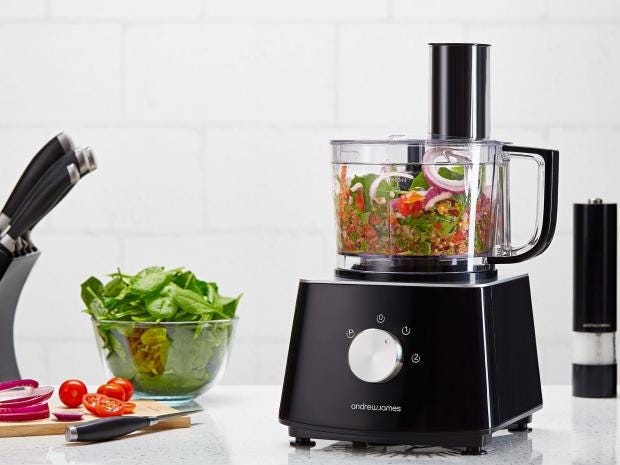 Food processors are among the essential kitchen appliances in modern homes today. They combine the jobs of various primitive machines and make life much easier as they finish work rather quickly. Be it cutting, slicing or dicing, a food processor can do the job for you in a jiffy and provide you with precise results; something not everyone can do with a knife in their hand! Food processors come in various models and variants and offer different functions and features so it is best to know about them before making a decision about buying one. In addition, there are some which have a multitude of functions while others which are specialized to the task. The best thing to do before buying a food processor is to analyze the reviews of it and read about user experiences with the machine you are interested in so you can make an informed decision.
10 Best Selling Food Processors in india – 2018
Food Processor – What Does It Do?
Just think about it this way. A food processor will take lots of the time and all of the hard work out of those repetitive, time consuming tasks essential for many of your favorite recipes;
mincing
grinding
chopping
slicing
shredding
pureeing
These chores are repetitive but essential, so why not let your food processor take the strain? If you've got a ton of veggies to chop for your favorite salad, for example, a food processor will do the job in a fraction of the time it would take you with even your favorite kitchen knife, and provide you with a bowlful of beautifully prepared vegetables in next to no time at all .
Who Needs A Food Processor?
It's a fact of life that a huge number of kitchen gizmos and gadgets end up collecting dust in the back of the cupboard, never seeing the light of day from one year to the next. A quality food processor is not cheap, so how do you know whether a food processor would be a good investment for you. In short, would it be used regularly, or would it be used once and then forgotten? Let's see if this is you;
Do you love to cook up large batches of food for freezing or entertaining?
Do you love to make lots of home-made salsas and dips?
Are you the sort of person who does lots of slicing, shredding, mincing and chopping?
Do you have the room for a food processor, either on your kitchen counter (if you're planning on using it every day) or in your cupboard?
Do you have a dishwasher? There are lots of different bits and pieces involve in a food processor, including some very sharp blades – it's often safer and much easier to pop them into the dishwasher.
Types of food processors
There are several variants of food processors, some which offer a range of functions and others which have only one or two specific tasks. These machines vary in sizes and attachments and accessories, all of which are essential to determine the job that they will do. The very basic food processors can only spin the blade in a single speed so you end up with the slices or cubes that you are looking for, while the advanced ones can do the preparatory jobs for baking for you.
The most basic machines in the food processor departments are choppers. These machines are powered by a small motor that works on a single blade and does exactly what the name says. It is meant only for chopping up vegetables and in some cases, they are capable of slicing and dicing depending on the facilities in the blade. Machines like these are at the entry level and cost quite little. While they are not meant for using in a professional kitchen, they make life at least a little easier by taking over the basic jobs of cutting and slicing for you.
There is another basic model, the grinder. While the previous model specialized in cutting, this one is meant for grinding and making a fine powder out of anything imaginable. Usually, the mechanism inside this is a disc with a blunt side that can crush nuts and the like against either itself or the wall of the bowl that sits on the machine. This one too is powered by a low power motor. Some of the recent unique models couple both a chopper and grinder in a single blade. One direction of rotation exposes the sharp side for cutting while the other side which is quite blunt and broad is meant for grinding.
The standard food processor comes in a variety of models but they are synonymous with a mix of choppers and blenders and kneaders. Usually, they have separate blades for different tasks to ensure the best possible efficiency and the best ones come with a range of work bowls to suit different sizes. The more advanced food processors have citrus juicers included in them which add a very important function to them. These can be powered by a motor of any rating depending on the size and the size of the work bowl as that determines the amount of food that it can take in one go and process.
Mini food processors are meant for use in small kitchens that do not demand too much work. They can do most of the functions of standard ones but only on a smaller scale. They have smaller work bowls and have low power motors. However, there are exceptions which have a high power motor in a small chassis and these pack power in their compact bodies like you have never seen before!
How to Choose the Best Food processor
When you are buying a new food processor, you will want to know everything you can about it and the specifications that the manufacturer prescribes for it and the features and functions it offers are very critical. Usually the function defines the type of food processor but each one is different from the next one because of what is really running on the inside. There are several parameters that you will have to check before making a final decision about a food processor to ensure that you get the best one for you.
Size
First things first. How much food do you usually prepare? For 1 – 3 persons, get a small food processor; 4 – 6 persons a medium one, and a large one if you're cooking for more than 7 persons.
Power
How much will you use it? Higher power or wattage will make food processing faster and more efficient for heavy use. But if you're not looking for a heavy duty machine there's no need to spend more for the extra power.
Blades and Bowls
Once you have finalized on the type of food processor you want based on the functions that it can perform and the jobs that it is designed for, you should look for the accessories that come with it. Usually these are blades, work bowls and other attachments that perform various functions. For example, slicing and kneading are carried out by different attachments.
Motor
The next thing to look for is the motor rating. Small food processors or task specific ones like grinders have a small motor and that is the best option for them but standard food processors, especially ones that are meant to do a lot of heavy duty work are usually bottlenecked by the power of the motor. The motor power determines the amount of food that it can process at a time and the speed at which it handles the job. In addition, you should best look for user reviews about the noise that the motor makes as you wouldn't want something very noisy running in your kitchen.
Price
   In fact for many this could be the most important aspect. But be careful not to go to low in price, after all you usually get what you pay for and if your food processor dies in the first few months it's not very cost effective.
Versatility and extras 
Would you like the food processor to do other stuff like juicing or blending? Do you want different size bowls and blades for flexibility in meal size? More isn't always good news especially when it means a load on the price tag, so make sure the extras bring you value if you're paying for them.
Easy controls
Most food processors can provide you with a variety of speeds, but since each job usually lasts only a matter of seconds just make sure that there's on, off and pulse. That's all that is really needed on the most basic food processor model.
Safety
  A food processor has a very sharp blade whizzing around at a very fast speed, I mean, just look at what short work it can make of a carrot and imagine what it could do with your fingers. You need to make sure that your food processor won't start work until the bowl is locked firmly into position on the base, that's a standard food processor safety feature.
Final Decision
The final decision about buying a food processor comes down to you and your requirements. If you think that you will only use it occasionally but need to cook elaborate dishes with a lot of preparation, best go for a standard food processor with all the accessories as this will not let you down. On the other hand, if you are only going to use it for specific purposes, best save money and buy one that will only either cut or grind or have minimal options.
However, if you are cooking extensively on a regular basis, go for the best in the market and you will have no regrets when you realize how much time you have saved thanks to the food processor as opposed to doing the job with your hands. Food processors certainly make life easy and ensuring you have the right information, especially about its performance via reviews is critical.